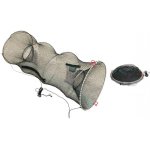 fishing baskets - fish traps

Catching crabs? Catching fish? Catch eels?
Here you will find plenty of passive fishing gear for catching crabs, flatfish and eels. The articles listed here can also be used by hobby fishermen, as no great previous knowledge is required. These baskets and traps are very easy to handle.
---
---
---