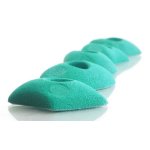 climbing holds
Here you will find suitable climbing holds for both amateur and professional climbers, as well as for therapeutic purposes.
Information about our climbing holds
Solvent free:
Our climbing holds are made exclusively from the high-quality material Graphikstein® with the highest product characteristics. Our material Graphikstein® does not contain any heavy metals (RoHs), is PAH-free, free of halogenated raw materials and food safe.
Food safe
Climbing on artificial climbing walls inevitably involves skin contact with climbing holds. With inferior materials it is possible that plastic components may leak out and be absorbed by the skin. Our climbing holds are food safe and saliva resistant according to the Foodstuffs and Commodities Act 5Abs.1Nr.1.
Colours and surfaces
Furthermore, we do not use any glass fibres, colours or surfaces that are hazardous to health. All colours are free of heavy metals, i.e. lead-free and cadmium-free. They do not contain any declarable mono- or di-AZO pigments. The surfaces are skin-friendly and homogeneously designed. Our handles are free of sharp edges and tips. The high surface quality causes minimal mechanical abrasion. Surface grinding of the contact surface and chamfering of the edges results in an above-average service life. Climbing with grips from KS in climbing halls, boulder halls Sloper climbing grip from KS Our mineral casting has been subjected to the artificial weathering test UVCON (UV Condensation Weathering Device). This procedure simulates the exposure of materials over a period of 6 years under extreme, constantly changing weather conditions. No mechanical changes could be detected after the test series and subsequent material testing.
Safety & DIN Standard
TÜV-tested according to European standard DIN EN
Our climbing grips are manufactured according to the European standard for climbing grips DIN EN 12572-3 and DIN EN 1176-1 points 4.2.5 and 4.2.7.3, which was tested by TV-Austria Services GmbH/Vienna;
Report number: KSGW0075-FAR
Assembly
Our climbing grips have holes for M10 hexagon socket screws, standard for climbing grip attachments.
A metal washer is cast into the handles to increase stability.
Please note our assembly instructions.
Fire protection
Our material is tested according to DIN 50050-2(1/88) and meets the requirements of the building material fire protection class B2 (Pr.Nr.2002-1813).
On request, the requirements for building material fire protection class B1 (Pr.Nr.2003-1527) can also be fulfilled.
REACH regulation
The EU Regulation 1907/2006 (REACH - Registration, Evaluation, Authorisation of Chemicals) has been in force since 1 June 2007.
The EU chemicals legislation is intended to guarantee the safety of people and the environment by identifying chemical substances in the supply chain at an early stage. As a manufacturer of "articles", our company is a so-called "downstream user" according to the REACH regulation and as such is not subject to the REACH registration obligation.
A registration obligation for downstream users only exists for direct imports of substances or preparations outside the EU. This is not the case with our company. However, we can assure you that we currently use and will continue to use only raw materials, auxiliary and finishing materials that are legally on the market, i.e. that are registered in accordance with the REACH regulation.
---
---
---