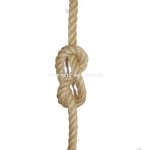 PP-spun fibre ropes, polyhemp
SPolypropylene (PP) spun fibre ropes not only feel soft, but can also be confused with natural hemp ropes because of their texture and colour, but are much more resistant.
Therefore it is used a lot where a natural look is desired, whether as handrail rope, rigging or for climbing nets.
Construction: 3-4 strands Material: 100% polypropylene (PP)
Manufacture according to DIN 83329
Presentation per meter or as 220 meter hawser
Higher strength than hemp
good rub resistance
very light, floats
high resistance to weathering
very good resistance to chemicals
very handy
good to splice
Colour hemp, cannot be dyed afterwards
You can choose different processing variants for one or both rope ends here.
On request, we also manufacture rope end connections according to your wishes and requirements.

---
---
---